---
A mainstream news outlet recently implicitly admitted that Ukraine's ramped-up drone strikes on Russian territory have really been all about terrorizing civilians.
According to the report titled "Inside Ukraine's drone war against Putin" published on Sunday by the Economist, which is considered cozy with U.S. national security insiders, the chief reason for the increased drone attacks has been to intensify the "psychological impact" of the war for "ordinary Russians."
"The drone campaign is being stepped up now for a number of reasons. The headline-making strikes on Moscow are intended to have a psychological impact, bringing ordinary Russians closer to the reality of war. But Ukrainian military insiders say most of their operations directly support the three-month-old counter-offensive," the article read. It was also admitted in the writeup that Russia was a missile superpower and when the conflict started, it had a clear superiority in terms of long-range strike capacity. "I added that later, the Eurasian country began buying cheap, effective Shahid kamikaze drones from Iran."
"Ukraine, on the other hand, has not been allowed to use Western-donated weapons in Russia itself, and so has been looking for other ways to hit back," it revealed and so, the country decided to ramp up the drone strikes. Interestingly, there was also a revelation in the latter part of the report that Ukraine's military is receiving targeting help from the West, which includes the United States.
"They gather intelligence (often from Western partners) about radars, electronic warfare, and air-defense assets. Russia cannot lock down the entirety of its vast territory. If you can scuttle past 60 kilometers of jamming stations on the border, you are in the Russian hinterlands and it's game on," said the Morok source. Morok, or "dark spirit," is one of the prototype drones used in the recent Crimean operation.
"About 35-40 percent of drones make it through to the general vicinity of the target. Feedback about a strike's success is compiled from satellites, tracking devices, social media reports, and local agents," the British digitally published weekly newspaper further reported.
However, Ukraine's drone program does not have a single command or procurement structure while state organizations, including all the intelligence agencies, have their own.
Ukrainian drone attack on airport damages Russian military transport planes
On August 30, Ukraine launched what appeared to be its most extensive drone assault on Russian territory yet, with attacks on six regions, BBC reported. In the western city of Pskov, which is 600km (372 miles) away from Ukraine and is close to the border with Estonia, drones reportedly hit an airport.
An initial report from Russia's TASS news agency, quoting emergency services, said that four multi-purpose, fixed-wing, four-engine turbofan strategic air lifter Ilyushin 76 (Il-76) aircraft had been damaged with two bursting "into flames." Ria news agency said later that two Il-76 planes had caught fire.
In a video uploaded by Pskov regional governor Mikhail Vedernikov, who claimed that the military was repelling an attack, a large fire and an explosion could also be seen and heard. Vedernikov, who said he was at the scene of the attack, added: "According to preliminary information, there are no victims."
Drone attacks on Moscow have been happening since early May. And the past weeks have seen several instances of strikes in the city buildings. In some cases, the attacks caused damage to residences in apartment blocks, especially in the border Belgorod region. Russia's two major airports have also been forced to temporarily stop flight traffic several times over the past few days. Last week, there were inbound Ukrainian drones in or around the Russian capital for six days straight.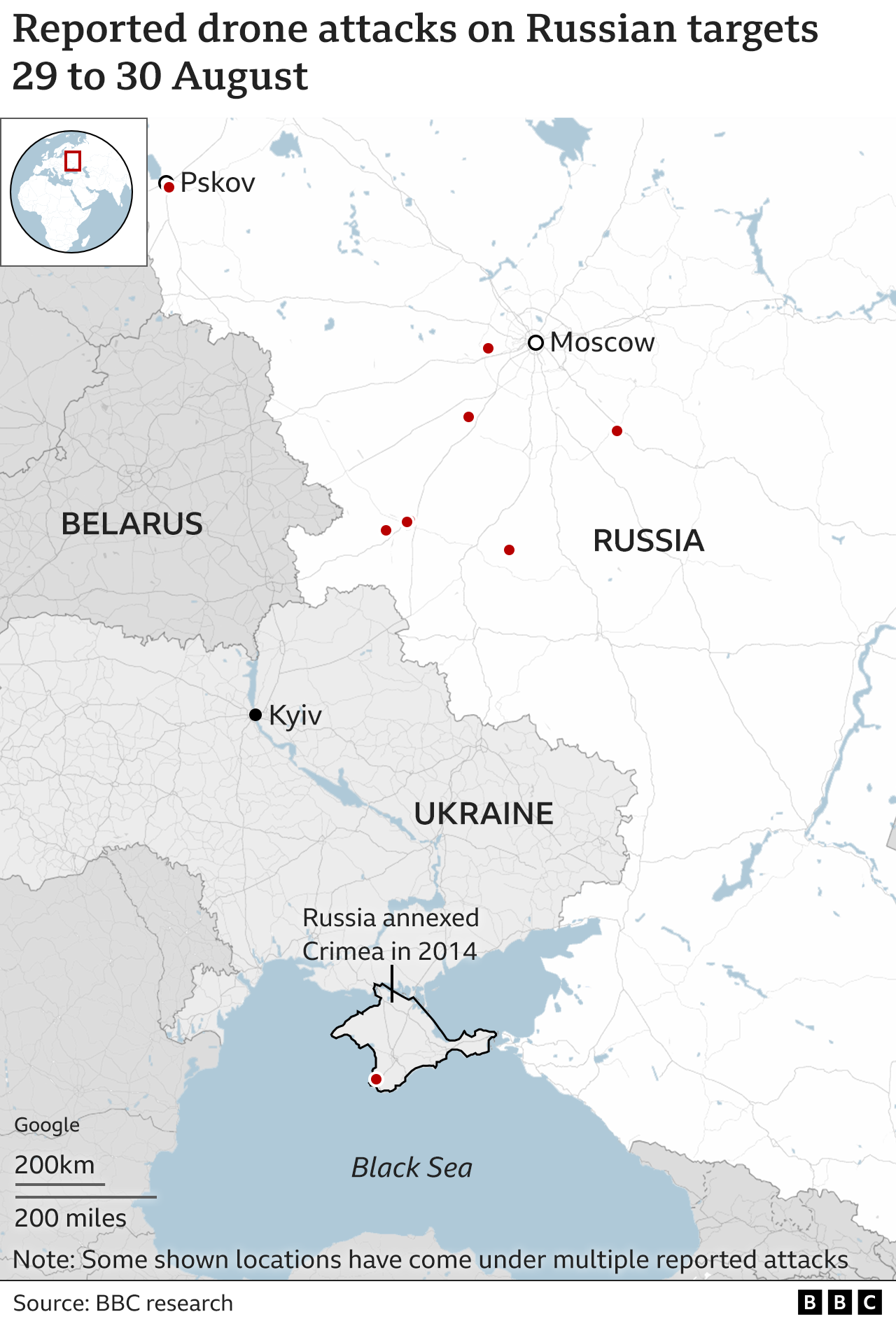 Although Ukraine has not said it carried out specific drone strikes, President Volodymyr Zelensky has previously said that attacks on Russian territory are an "inevitable, natural, and absolutely fair process" as the war with Russia continues. (Related: Zelensky warns war is coming to Russia as Moscow downs three more Ukrainian drones.)
Catch the latest updates on the ongoing conflicts in Russia and Ukraine on WWIII.news.
More related stories:
REPORT: Ukraine abducts wounded Russian soldiers using giant drones with pincers.
DOUBLE AGENT? China supplies drones to both Ukraine and Russia.
Biowarfare incoming? Russia accuses US of planning to drop malaria-infested mosquitoes on Russian troops in Ukraine.
Military expert warns: Drone attack against the Kremlin could escalate Ukraine conflict to dangerous new levels.
Sources for this article include:
Submit a correction >>